The New Building Campaign
Purchasing our own building would do wonders for our students, but the impact does not stop with them. What happens in this school reverberates throughout the country and the Church for years to come. Investing in The St. Austin School is an investment in raising virtuous, faithful, critical-thinking, and intelligent adults. Our world sorely needs more leaders who will "preach the unsearchable riches of Christ" (Eph 3:8). Please prayerfully consider supporting us at whatever capacity you are able. The future has never looked brighter for the St. Austin community!

Mr. Councilor on the Benefits of the New Campus
During and after looking at the Wildhorse property, many thoughts came to mind. Among these thoughts are the importance of having Christ physically present in a Catholic school, the instructional possibilities the property would facilitate, and a desire for St. Austin to have a place to call home.
St. Austin's mission to "collaborate to form students in Christian virtues and the lifelong practice of the Catholic faith," would be fulfilled most excellently with the Eucharist permanently in the school building. Putting the "source and summit" of our Christian faith at the absolute center of all we do is the model for our students to follow in order to truly have abundant life.
Fortunately, most of our students have no problem proudly sharing their faith with others as they live their lives. St. Austin, in its own building, would itself be a sign and example of sharing the good news with the world.
Aerial View of the Wild Horse Creek Property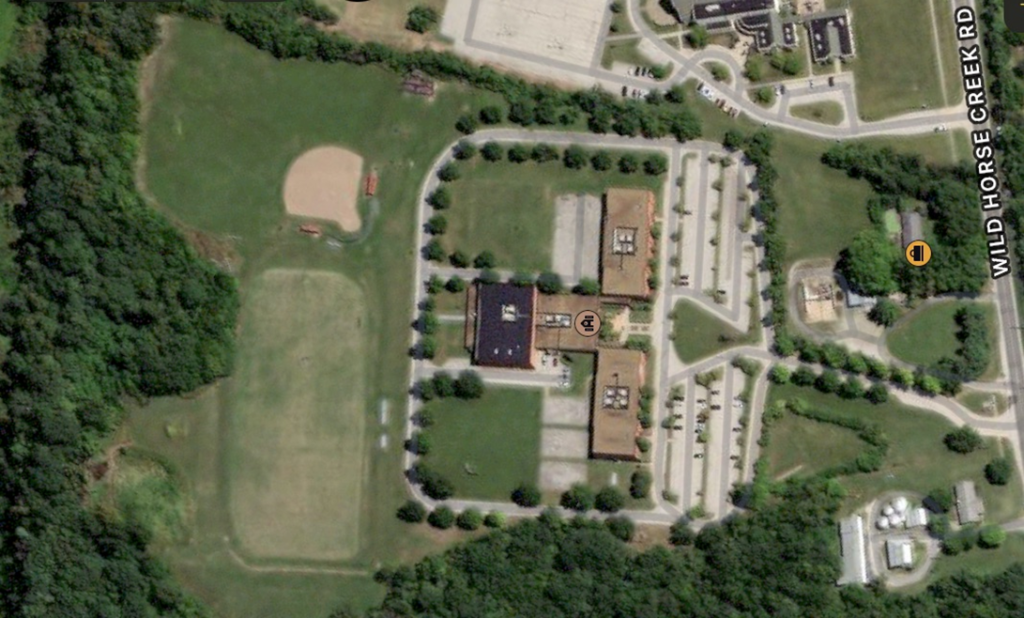 A Note from the Frank Family
We are thrilled about the new campus and grounds, especially the spacious classrooms with natural light, the possibility of a large chapel central to the school community, and the ample space outdoors. I am already imagining how the Catechesis of the Good Shepherd program could flourish and grow into all three levels with a dedicated Atrium. One thing that initially attracted us to St. Austin was the big family feeling of that bustling, cheerful little hall at Assumption Greek Orthodox Church. We anticipate that the Wild Horse property would facilitate a flourishing of that community feeling, both among the students and the families. It is an exciting prospect! – Will and Jane Frank